Mortality schedules list people who died during the previous 12 months. Mortality schedules were taken along with population schedules during the 1860 census. These schedules include persons who died between June 1st through May 31st in the year prior to the 1860 federal census. The 1860 mortality schedule lists the dead person's name; age, sex, color (white, black, or mulatto), free or slave, married or widowed; place of birth; month of death; profession, occupation, or trade; cause of death; and number of days ill. Though part of the federal censuses, mortality schedules are separate from the population schedules.
The following is an alphabetical index of those listed on the mortality schedule for Blount County for 1860.
The original transcription by Kamy Rayburn Gamble did not include any black or mulatto individual, I have added them back in. 1 You will need to check the images below to see the race for a person. The page and line is included to make it easier to find on the schedule. Pages 4-6 were especially faint and I have edited those three original images to make them clearer and easier to read.
Infants: In almost all cases infants were not provided a last name. I have assigned a last name of the preceding individual as there were multiple indications this was the pattern used by the enumerator.
Please verify any and all information with the original image. If you find discrepancies, please state them below. Thanks!
| Last Name | First Name | Sex | Age | State Born | Month Died | Cause of Death | Occupation | Page | Line |
| --- | --- | --- | --- | --- | --- | --- | --- | --- | --- |
| Allen | Elizabeth | Female | 16 | TN | October | Typhoid Fever | | 1 | 21 |
| Anderson | Sarah | Female | 28 | NC | January | Typhoid Fever | Farmer | 5 | 9 |
| Blackburn | Andrew | Male | 31 | TN | August | Consumption | Concert Musician | 5 | 3 |
| Blackburn | Sally | Female | 1 | TN | April | Lung Inflamation | | 5 | 4 |
| Blackburn | Infant | | | | August | Still Born | | 5 | 5 |
| Blaug | George | Male | 85 | Ireland | June | Liver Disease | Butcher | 5 | 34 |
| Blaug | Infant | | | | August | Still Born | | 5 | 35 |
| Bouchelle | John | Male | 61 | TN | October | Erysepilis | Farmer | 6 | 1 |
| Bouchelle | John | Male | 1 | TN | April | Clothes caught fire | | 6 | 2 |
| Britt | Jesse | Male | 65 | VA | September | Pleurisy | Tennant | 5 | 18 |
| Brooks | Sarah | Female | 68 | VA | August | Dropsy | | 2 | 5 |
| Brown | Joseph M. | Male | 22 | TN | April | Typhoid Fever | Farmer | 1 | 13 |
| Burnham | William L. | Male | 1 | TN | June | Cholera | | 1 | 27 |
| Burns | Courson | Male | 3 | TN | December | Sore Throat | | 6 | 5 |
| Carney | Patrick | Male | 45 | Ireland | January | Brain Inflamation | Stone Cutter | 5 | 22 |
| Cenye | Martha | Female | 67 | TN | August | Old Age | | 3 | 6 |
| Chapman | Joseph M. | Male | 2 | TN | June | Flux | | 3 | 7 |
| Clampet | John | Male | 40 | TN | May | Typhoid Fever | Laborer | 5 | 26 |
| Clark | Alexander | Male | 24 | TN | | Scrofula | | 4 | 34 |
| Clark | May | Female | 24 | TN | October | Consumption | | 4 | 33 |
| Cochran | John F. | Male | 2 | TN | March | Typhoid Fever | | 1 | 26 |
| Cohom | John F. | Male | 2 | TN | February | Typhoid Fever | | 2 | 21 |
| Conner | Alexander | Male | 2 mos. | TN | October | Sore Throat | | 2 | 13 |
| Conner | Margaret | Female | 87 | Ireland | February | Old Age | | 2 | 14 |
| Cowan | Jane | Female | 70 | TN | May | Bilious Fever | Farmer | 4 | 32 |
| Cox | Frank | Male | 1 | TN | January | Pneumonia | | 1 | 9 |
| Cox | Jim | Male | 1 | TN | October | Croup | | 1 | 10 |
| Cox | Lisa | Female | 13 | TN | August | Bowel Inflamation | | 1 | 5 |
| Cox | Nancy | Female | 1 | TN | October | Bronchitis | | 1 | 6 |
| Cox | Rose | Female | 27 | SC | May | Consumption | | 1 | 1 |
| Culton | Mary | Female | 78 | CA | June | Bowel Inflamation | | 2 | 27 |
| Cunningham | Leander H. | Male | 2 | TN | January | Worms | | 2 | 31 |
| Daltiny | Amanda J. | Female | 32 | TN | March | Consumption | | 1 | 3 |
| Davis | Malindy | Female | 24 | TN | April | Breast Complaint | | 6 | 3 |
| Davis | Martha | Female | 28 | VA | July | Consumption | | 4 | 25 |
| Davis | Infant | | | TN | January | Still Born | | 4 | 26 |
| Dawson | Mary Ann | Female | 9 mos. | TN | July | Croup | | 1 | 35 |
| De Abney | Richmond | Male | 21 | TN | September | Typhoid Fever | | 4 | 19 |
| Dunlap | William | Male | 47 | NC | October | Unknown | Farmer | 1 | 28 |
| Dunlapp | Thomas | Male | 37 | TN | May | Typhoid Fever | Farmer | 5 | 27 |
| Dunlapp | Infant | | | TN | September | still born | | 5 | 28 |
| Earley | Elizabeth | Female | 3 | TN | June | Flux | | 4 | 29 |
| Edmonson | Mary J. | Female | 21 | TN | February | Bronchitis | | 2 | 23 |
| Emmett | Betsy Ann | Female | 49 | TN | November | Consumption | | 2 | 34 |
| Everett | Eliza | Female | 28 | VA | February | Consumption | Housekeeper | 5 | 21 |
| Farr | James | Male | 36 | TN | September | Bilious Fever | Farmer | 3 | 3 |
| Farr | Samuel G. | Male | 2 | TN | June | Flux | | 3 | 4 |
| French | Cepha | Male | 5 | TN | June | Typhoid Fever | | 1 | 32 |
| Gardner | William A. | Male | 6 | TN | June | Brain Disease | | 2 | 32 |
| Garner | Elizabeth | Female | 43 | TN | June | Consumption | | 3 | 13 |
| Garner | William | Male | 87 | NC | May | Dropsy | | 3 | 12 |
| Gaut | John | Male | 63 | TN | July | Unknown | Farmer | 2 | 26 |
| Gillespie | Telana | Female | 9 mos. | TN | September | Brain Inflammation | | 4 | 27 |
| Gillespie | Infant | Female | 1 | TN | November | Brain Inflammation | | 4 | 28 |
| Gillespie | Will C. | Male | 64 | TN | March | Intemperance | | 4 | 21 |
| Gourley | Faraba | Female | 1 | TN | January | Croup | | 1 | 14 |
| Griffith | Sarah | Female | 4 mos. | TN | April | Enlargement of the Brain | | 2 | 7 |
| Grissum | Sarah E. | Female | 12 | TN | February | Unknown | | 2 | 28 |
| Grundstaff | Peter | Male | 9 | TN | February | Typhoid Fever | | 5 | 10 |
| Hackney | Molly | Female | 10 mos. | TN | August | Brain Inflamation | | 1 | 34 |
| Hackney | Nancy E. | Female | 4 | TN | May | Typhoid Fever | | 1 | 29 |
| Haddof | Augustine | Male | 1 | TN | March | Sore Throat | Tenant Child | 4 | 7 |
| Haddof | Betsy A. | Female | 9 | TN | March | Sore Throat | Tenant Child | 4 | 5 |
| Haddof | James N. | Male | 4 | TN | March | Sore Throat | Tenant Child | 4 | 6 |
| Haddof | Black Infant | Female | 1 mo. | TN | August | Unknown | | 4 | 8 |
| Hamill | John M. | Male | 16 | TN | May | Liver Disease | | 2 | 29 |
| Hamill | Margaret E. | Female | 1 | TN | June | Brain Inflamation | | 1 | 30 |
| Hammer | Jesse L. | Female | 9 mos. | TN | June | Cold | | 2 | 4 |
| Hammer | Polly Ann | Female | 27 | TN | May | Consumption | | 2 | 3 |
| Hammontree | Sarah | Female | 83 | NC | February | Old Age | | 3 | 16 |
| Hanner | John A. | Male | 9 mos. | TN | August | Croup | | 3 | 5 |
| Harris | Eleanor | Female | 75 | VA | May | Palsey or Old Age | Farmer | 4 | 13 |
| Henry | Eliza | Female | 3 mos. | TN | June | Cold | | 2 | 33 |
| Henry | Margaret | Female | 29 | TN | March | Consumption | Housekeeper | 5 | 24 |
| Henry | Thomas | Male | 1 week | TN | May | Unknown | | 6 | 6 |
| Hicks | Margarett | Female | 60 | NC | January | Pneumonia | Nurse | 4 | 4 |
| Hicks | William | Male | 69 | NC | April | Congestion | Shoemaker | 5 | 8 |
| Hoyt | Samuel T. | Male | 11 mos. | TN | May | Unknown | | 3 | 11 |
| Ish | Jane | Female | 2 | TN | July | Croup | | 1 | 17 |
| Jackson | James | Male | 2 mos. | TN | March | Unknown | | 2 | 10 |
| Jackson | Jim | Male | 35 | TN | March | Consumption | | 2 | 9 |
| Jackson | Lorenzo D. | Male | 12 | TN | January | Dropsy | | 2 | 1 |
| Jackson | Samuel | Male | 1 | TN | March | Croup | | 2 | 8 |
| Johnson | Mary | Female | 19 | TN | September | Neuralgia | | 5 | 14 |
| Johnson | William | Male | 1 mo. | TN | January | Hives | | 6 | 4 |
| Jones | Lamuel | Male | 84 | NC | September | Debility | Farmer | 1 | 22 |
| Kerby | Narcissa | Female | 43 | TN | September | Consumption | | 4 | 14 |
| Kerby | Infant of Narcissa | | | | | Still Born | | 4 | 15 |
| Kerr | Charles | Male | 1 mo. | TN | November | Liver Disease | | 2 | 18 |
| Kerr | Naomi | Female | 9 | TN | August | Brain Infection | | 2 | 35 |
| Kidd | Sam Houston | Male | 1 mo. | TN | September | Unknown | | 4 | 2 |
| Kidd | Infant | Female | 1 mo. | TN | | Unknown | | 4 | 3 |
| Kizer | Ann | Female | 57 | TN | November | Chills | | 2 | 12 |
| Leeper | Charles | Male | 66 | GA | July | Cholera | | 1 | 31 |
| Lingenfelter | Josephine H. | Female | 3 | TN | November | Croup | | 1 | 33 |
| Logan | Burton | Male | 11 mos. | TN | January | Croup | | 2 | 22 |
| McCauley | Polly | Female | 1 mo. | TN | March | | | 5 | 20 |
| McClain | Margaret | Female | 6 | TN | March | Tonsillitis | | 5 | 17 |
| McClater | Robert | Male | 8 | TN | March | Tonsillitis | | 5 | 16 |
| McClure | Clementine | Female | 23 | TN | May | Fever | Laborer | 4 | 30 |
| McClure | Isaac | Male | 1 | TN | October | Sore Throat | | 4 | 31 |
| McConnell | Margaret M. | Female | 12 | TN | July | Measles | | 2 | 15 |
| McGinly | Margarett | Female | 26 | TN | August | Consumption | Housekeeper | 5 | 1 |
| McGinly | Ebenezer | Male | 51 | TN | June | Consumption | Farmer | 5 | 23 |
| McKeehan | John | Male | 1 mo. | TN | April | Unknown | | 2 | 24 |
| McLin | John B. | Male | 75 | CA | April | Unknown | Carpenter/Joiner | 1 | 8 |
| McNabb | William | Male | 73 | SC | May | Consumption | Thread Baler | 4 | 1 |
| Miser | John Q. | Male | 3 | TN | November | Unknown | | 1 | 20 |
| Mitchel | William | Male | 20 | TN | August | Pneumonia | Laborer | 4 | 16 |
| Mitchel | Infant | | | | | Still Born | | 4 | 17 |
| Montgomery | Elizabeth | Female | 70 | PA | July | Debility | | 2 | 16 |
| Montgomery | John | Male | 48 | TN | January | Intemperance | Laborer | 5 | 2 |
| Moore | Elizabeth G. | Female | 1 | TN | October | Croup | | 1 | 25 |
| Morton | James | Male | 59 | NC | July | Typhoid Fever | Farmer | 4 | 18 |
| Morton | Lucinda | Female | 91 | VA | July | Unknown | | 2 | 2 |
| Moss | Mary | Female | 26 | VA | September | Breast Cancer | Factory Worker | 4 | 11 |
| Murreu | James | Male | 1 | TN | October | Worms | | 5 | 32 |
| Murreu | Margarett | Female | 28 | NC | August | Consumption | Tenants Wife | 5 | 29 |
| Murreu | Sarah | Female | 1 | TN | June | Unknown | | 5 | 31 |
| Murreu | Tailar | Female | 45 | TN | June | Unknown | | 5 | 30 |
| Nipper | Infant | Male | 1 mo. | TN | October | Typhoid Fever | | 1 | 2 |
| Odum | Theophilus | Male | 49 | NC | February | Pneumonia | Laborer | 3 | 15 |
| Parsons | William N. | Male | 1 | TN | September | Thrush | | 3 | 10 |
| Phillips | Pleasant H. | Male | 36 | TN | February | Consumption | Farmer | 1 | 24 |
| Phillips | William | Male | 1 mo. | TN | January | Croup | | 1 | 23 |
| Phinney | Matthew | Male | 5 mos. | TN | March | Brain Inflamation | | 2 | 20 |
| Prater | Infant | Male | 1 mo. | TN | January | Croup | | 1 | 15 |
| Prather | Lusinda M. | Female | 12 | TN | July | Typhoid Fever | | 3 | 2 |
| Prather | William G. | Male | 44 | AL | June | Typhoid Fever | Shoemaker | 3 | 1 |
| Rankin | Penelope | Female | 11 | TN | October | Sore Throat | | 4 | 9 |
| Rawlston | George | Male | 79 | VA | September | Rheumatism | Farmer | 5 | 11 |
| Rawlston | Mary | Female | 10 mos. | TN | November | Dropsy | | 4 | 35 |
| Rhea | Leonard | Male | 55 | NC | January | Consumption | Miller | 5 | 6 |
| Richards | Elizabeth | Female | 73 | TN | February | Unknown | | 1 | 18 |
| Rogers | Martha | Female | 29 | TN | October | Fits | | 5 | 33 |
| Sincerly | Isaac | Male | 9 mos. | TN | January | Brain Inflamation | | 5 | 15 |
| Sincerse | John | Male | 12 | TN | February | Congestion | | 4 | 20 |
| Spradlin | William P. | Male | 1 mo. | TN | October | Unknown | | 3 | 14 |
| Stallion | Apsley | Female | 55 | NC | February | Consumption | | 2 | 25 |
| Steel | Jordan | Male | 1 | TN | June | Brain Inflamation | | 5 | 19 |
| Stone | Joel | Male | 69 | NC | December | Tetnous | Painter | 1 | 19 |
| Stout | Sarah | Female | 74 | VA | March | Unknown | | 3 | 9 |
| Swaggerty | Mary | Female | 5 mos. | TN | August | Unknown | Tenant Child | 4 | 12 |
| Talbot | James F. | Male | 1 | TN | June | Bowel Inflamation | | 1 | 12 |
| Tedford | Sarah J. | Female | 15 | TN | October | Consumption | | 1 | 4 |
| Taliafing | James | Male | 26 | NC | November | Drowned | | 1 | 16 |
| Terry | Melinda | Female | 1mo. | TN | June | Unknown | | 1 | 7 |
| Thompson | Elizabeth A. | Female | 6 mos. | TN | October | Liver Disease | | 2 | 30 |
| Thompson | John | Male | 56 | TN | March | Internal | Laborer | 3 | 8 |
| Thompson | Moses | Male | 11 mos. | TN | November | Sore Throat | | 4 | 10 |
| Toole | William | Male | 69 | TN | May | Old Age | Saddler | 5 | 7 |
| Waddle | Mary E. | Female | 7 mos. | TN | June | Cold | | 2 | 11 |
| Wayman | Charles | Male | 1 mo. | TN | May | Unknown | | 2 | 6 |
| Wesley | Tolbert | Male | 2 mos. | TN | July | Bowel Inflamation | | 4 | 22 |
| Wesley | Infant | Female | 4 mos. | TN | July | | | 4 | 23 |
| Wesley | Infant | | | TN | July | | | 4 | 24 |
| Whitehead | Lucy | Female | 6 | TN | March | Burned | | 5 | 12 |
| Whitehead | Infant | Female | 3 mos. | TN | June | Unknown | | 5 | 13 |
| Whittenburg | Sarah M. | Female | 6 mos. | TN | March | Croup | | 1 | 11 |
| Wilson | Ann Eliza | Female | 70 | TN | June | Flux | | 2 | 17 |
| Wilson | Lorenzo | Male | 6 | TN | October | Teething | | 5 | 25 |
| Wilson | Missouri | Female | 1 | TN | June | Flux | | 2 | 19 |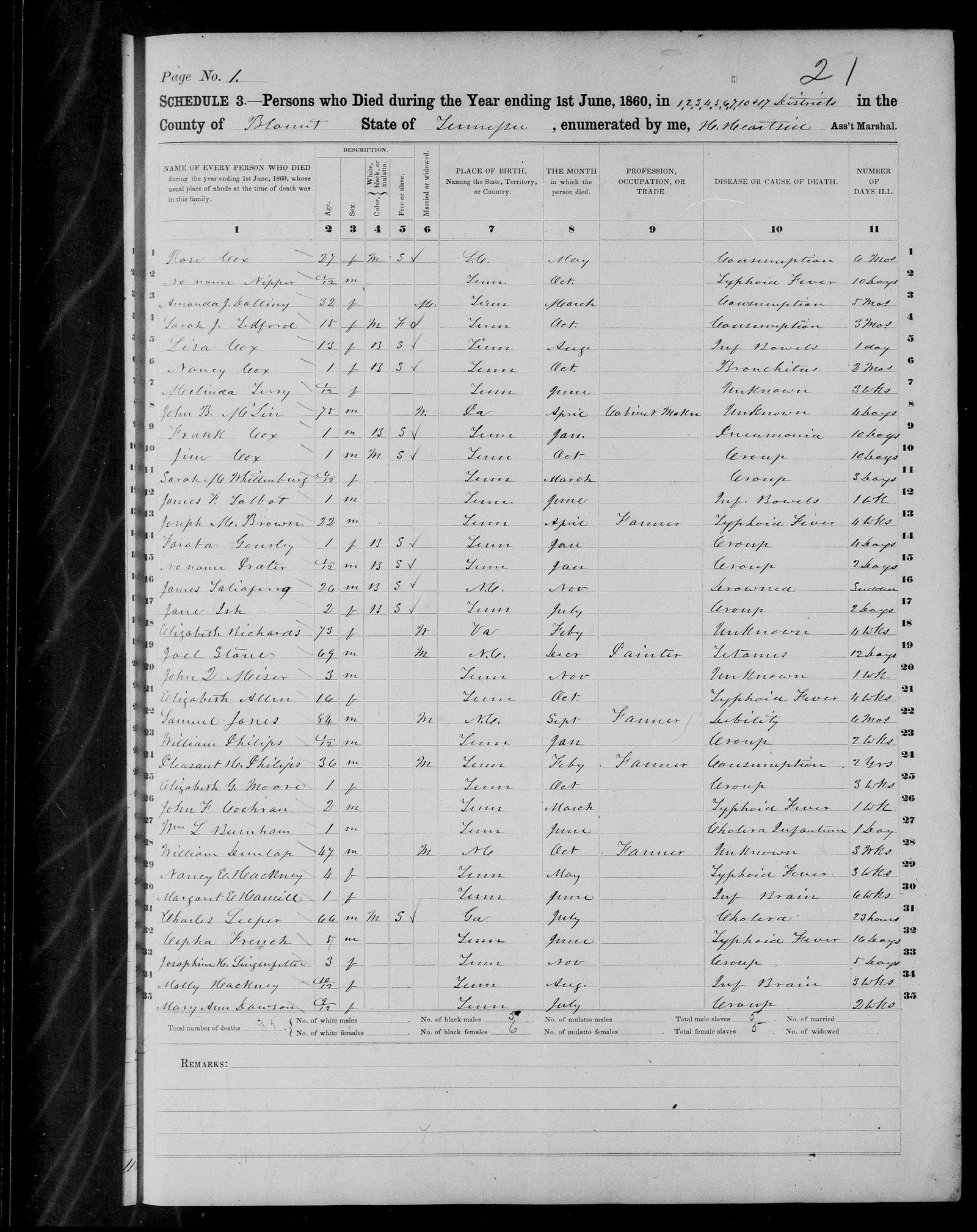 Footnotes
This same incomplete enumeration had been copied verbatim and placed on other websites without verifying it was complete or crediting the source. I have corrected and updated only our listing.[↩]