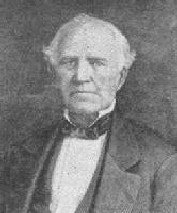 Gen. Sam. Houston. What one who knew him from boyhood remembers. [Nashville American.] A short time ago Judge Jo. C. Guild who is actively engaged in the preparation of a work embracing his personal recollections of men and events in Tennessee during the past sixty years, requested Col. Willoughby Williams, of this city, to write a brief sketch of Gen. Sam. Houston, with whose history from early boyhood, Col. Williams is better acquainted than any living man. The request was complied with, and we are permitted to give the result below: Nashville Tenn., April 1, 1878.– Judge Jo. C. Guild — My Dear Sir: In the several conversations we have had on the subject of Gen. Sam. Houston's life, you have expressed a desire to have me relate some of the particular scenes and events in his early [faded] sill familiar in my mind. I will endeavor then, in a short sketch give you what now occurs to me of most interest. My earliest recollections of Gen. Houston date back to 1811 at Kingston, Roane county Tenn. He was a clerk at the time of Mr. Sheffy. My mother, in her widowhood, was living about three miles from Kingston. I was thirteen years of age, and Mr. Houston five years my senior. The line of the Cherokee country was about three miles south of Kingston, the Tennessee river being the boundary. The Indian trade being much valued, his services were highly appreciated from the fact that he spoke with fluency the Cherokee language. He was especially kind to me, and much of my time was spent in his company. He remained in the capacity of clerk until after the declaration of the war in 1812. At that time the United States were recruiting troops at Kingston for the war. Lieut. Wm. Arnold, of the Thirty-ninth regiment of Regulars, was sent to Kingston on recruiting service. The whole population had caught the war fever and intense interest prevailed. The manner of enlisting at that day was to parade the streets with drum and fife, with a sergeant in command. Silver dollars were placed on the head of the drum as a token of enlistment, the volunteer stepped up and took a silver dollar, which was his bounty; he was then forth with marched to the barracks and uniformed.
The late Robert H. McEwen, of this city, cousin of Gen. Houston, and myself were standing together on the streets and saw Houston take his silver dollar in the year 1813. He was taken immediately to the barracks and dressed in uniform and appointed the same day as Sergeant. Soon after this Lieut. Arnold had received thirty-nine soldiers, and was ordered to send them forth to join the troops, marching to the Creek war, under the command of Col. John Williams, of Knoxville, who commanded this regiment of regulars in person at the battle of Horse Shoe, and afterwards became a distinguished Senator in Congress from Tennessee. Soon after Houston left Kingston, his friends applied to President Madison for his promotion, who commissioned him as Ensign. The commission was promptly sent, and reached him before the battle of Horse Shoe. At the battle he mounted the Indian defense with colors in hand, and was wounded by a barbed arrow in the thigh. A soldier, whom he ordered to extract it by main force, made several ineffectual attempts, and only succeeded under a threat by Houston to kill him unless he pulled it out. He was carried back, suffering intensely from the wound which had been lacerated. His indomitable will led him immediately back into the fight, when he was soon wounded by two balls in the shoulder. His intrepid spirit displayed on this occasion won him the lasting regard of Gen. Jackson. Disabled from further service, he was sent back to Kingston with the sick and wounded. Robert H. McEwen and myself met him some distance from Kingston, on a litter supported by horses. He was greatly emaciated, suffering at the same time from his wounds and the measles. We took him to the house of his relative, 'Squire John McEwen, brother of R.H. McEwen, where he remained from some time, and from thence he went tot he house of his mother, in Blount county. After this battle, he received the appointment of Luitenant for his gallantry. After the restoration of peace he was appointed sub agent of the Cherokee nation under Return J. Meigs, who was agent, the Agency being on the west bank of the Hiwassee, near where the railroad between Knoxville and Chattanooga crosses, the spot where the remains of Gov. McMinn and Return J. Meigs lie buried, both having been agents to the Indian nation. While in the capacity of sub-agent, a controversy arose between himself and Mr. Calhoun, Secretary of War, which caused his removal about the year 1816. Soon after this he came to Nashville and commenced the study of law with Hon. James TRIMBLE, father of Mr. John TRIMBLE, of this city, and obtained license to practice after six or eight months study. At the first meeting of the Legislature he was elected Attorney General of this district over some distinguished lawyers as competitors, and was elected Major General of the militia of this division of the State, and in 1823 was elected to Congress, and re-elected in 1825. While there he preferred some charges against the Postmaster here, who, it was understood, would hold him personally responsible on his return home. The matter was public, and great excitement existed among the friends of both parties, and rumors, were afloat that a duel would follow. Col. John T. Smith, a noted duelist, in Missouri, arrived in the city, and it was understood that he would be the bearer of the challenge to Houston. It was believed that Col. McGregor, who was General Houston's second, would refuse to accept the challenge through the hands of Col. Smith, for reasons which he explained. This caused some excitement among the friends of General Houston, as they expected a difficulty to occur between Mr. McGregor and Col. Smith, because of the refusal to accept the challenge if borne by Smith, he being well known as a desperate man. It was anticipated that the challenge would be delivered at the Nashville Inn, where Gen. Houston was stopping that afternoon, and all were on the lookout for the movements of Smith. He was soon seen, about where now stands the Hicks china store, walking in the direction of the Nashville Inn, and the friends of both parties hurried to the Inn, where the meeting was to take place. Maj. Philip Campbell, a gallant soldier in the Creek war, and a warm personal friend of Gen. Houston, with ten or fifteen other Houston men made their appearance at the Inn, prepared to take part, as it was expected there would be a fight when McGregor refused to accept the challenge borne by Smith. The challenge was presented by Smith to McGregor in front of the Nashville Inn, with these words: "I have a communication with Col. Irwin to Gen. Houston, which I now hand to you, sir" extending his hand with the challenge. McGregor replied: "I can receive no communication through your hands from Col. Irwin,' and the paper dropped on the pavement before them. Col. Smith then returned to his quarters, walking down the Public Square, the same route by which he approached the place of meeting. The crowd rushed into the hall of the Inn where Gen. Houston was standing, greatly relieved that there was no fight between McGregor and Smith. Gen. Wm. White, a brave and chivalrous gentleman, remarked that he did not "think the proper courtesy had been extended to Col. Smith." Houston heard the remark, and said: "If you sir, have any grievances, I will give you any satisfaction you may demand." Gen. White replied: "I have nothing to do with your difficulty, but I presume to know what is due from one gentlemen to another." This ended the conversation. The next day it was rumored on the streets that Gen Houston had "back down" Gen. White. When it reached the ear of the gallant White, through some evil-minded person, he resented the Imputation by sending a challenge to Gen. Houston, who readily accepted. Robert C. Foster, a prominent citizen of Davidson county and preserver of the peace, came to town and heard the rumor. He expected the fight, and immediately had a warrant issued for the arrest of both parties, which was placed in the hands of Joseph W. Horton, Sheriff of this county at that time. Mr. Horton requested me to accompany him the next morning to the residence of Mr. White to make the arrest. White was then living four or five miles north of the Cumberland river. Declining the request of Mr. Horton, I immediately went to Houston's room, and found that he had heard, late in the evening, of the warrant for the arrest both of himself and Gen. White. That evening he left the city and passed by the Hermitage on his way to the home of Jimmy Dry SANDERS, in Sumner county. The next day he sent a message to learn what had been done with White and to notify him that he would offer him that he would be in Kentucky on a certain day and there would offer him any redress he might desire. White met him according to appointment, and they fought a duel at sun rise. White was thought to be mortally wounded, but recovered. On the evening of the fight a large crowd was assembled at the Inn to hear the news of the duel, among them Gen. Jackson. White waiting in expectation, a personal friend of Gen. Houston and a noted character, John G. Anderson who had gone up to witness the fight was seen coming at full speed over the bridge, and soon announced that Houston was safe and White mortally wounded. After Houston's term in Congress expired, he was elected Governor of Tennessee, successor to Gen. Wm. Carroll. During his Governorship, he married Miss Allen, who was a member of a large and influential family in Summer and Smith counties.
Gen. Carroll, after being out of office two years, was again eligible and declared himself a candidate to opposition to Houston. The first meeting of Houston and Carroll in the canvass occurred at Cockerell's Spring in the month of April, at a battalion muster. I was at that time Sheriff of the county and Colonel of the militia, and at Houston's request, drilled the regiment that day, he desired me to fully acquaint my self with popular sentiment, and communicate it to him after the speaking, which I did affording him, much gratification. He left the muster ground Saturday afternoon, for the city, and I accompanied him as far as the residence of Mr. John Boyd in sight of the city, and then returned to my home, leaving him in fine spirits. I went into the city on Monday morning early, and while registering my name at the Nashville Inn, the late Daniel F. Carter, who was at the time clerk of the hotel, said to me: "Have you heard the news?" I replied, "No what news?" He replied, "Gen. Houston and wife have separated, and she has returned to her father's home." I was greatly shocked, having never suspected any cause for separation. Asking where Gen. Houston could be found, Mr. CARTER replied, he was in his room, but could not be seen, I went immediately to his room and found in company with Dr. Shelby. He was deeply mortified and refused to explain this matter. I left him with Dr. Shelby for a few minutes and went to the Court-house on business. When I returned I said to him, "You must explain this sad occurrence to us, else you will sacrifice your friends and yourself." He replied, "I can make no explanation. I exonerate this lady fully, and do not justify myself. I am a ruined man; will exile myself, and now ask you to take my resignation to the Secretary of State." I replied, 'You must think of it,' when he again said, 'It is my fixed determination, and my enemies, when I am gone, will be too magnanimous to censure my friends.' Seeing his determination, I took his resignation to the Secretary of State, who received it. The following morning he went in disguise to the steamboat, accompanied by Dr. Shelby and myself. He wrote me afterwards that he was not recognized until he reached Napoleon, at the mouth of the Arkansas river, where he met a friend, of whom he exacted a promise not to make him known. He went up the river to Fort Smith, thence to the Cherokee Nation to his old friend Jolly, a noted Indian whom he knew when sub agent. He remained in the Nation some time, and on one occasion passed through Nashville, with a delegation of Indians on their way to Washington City, in the full garb of a Cherokee. From the Nation he went to Texas and settled at St. Augustine, commencing there the practice of law with John Dunn, of this county, son of Michael C. Dunn, and there remained until the breaking out of the Texas revolution. He soon raised an army, and was made commander-in-chief of the Texas army, and at the battle of San Jacinto captured Santa Anna, President of Mexico, which closed the war. He sent Santa Anna and Gen. Almonte as his prisoners through Nashville, on their way to Washington City, under charge of Col. George W. Hocley, formerly of Nashville. Gen Houston was then made President of the Republic of Texas, and, after its annexation, was Senator in Congress from that State; then was made Governor, and at the commencement of the war was opposed to secession and rebellion, was disposed by the Legislature and soon after died. Some years previous to his death he professed the Christian religion and became a consistent member of the Baptist church. The incidents I have related to you, my old friend, are just as they present themselves from my own memory, without reference to history, hence there may be some inaccuracy in the dates. Many other incidents occur to my mind, but I will not tax you longer. Long and faithfully yours. Willoughby Williams.