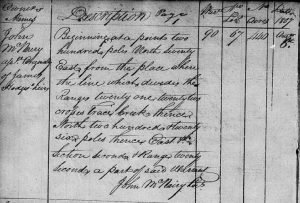 On a single roll of microfilm are reproduced two volumes of final record books of the U.S. District Court for West Tennessee, 1803-1839, and for the Middle District of Tennessee, 1839-1850, both of which met at Nashville. In addition, a Land Claims Record for West Tennessee, 1807-1820, has been filmed. These records are part of Records of District Courts of the United States, Record Group (RG) 21, and are housed in the Archives Branch of the Federal Archives and Records Center, Atlanta, Georgia.
Records Description
The third volume on FHL Film #1617586 contains land claims records filed with Judge McNairy for West Tennessee during the period August 1807-December 1820. These; records contain information in columns, headed as follows: "Owners' Names," "Land Description" (including the name of the county and identifying water courses), "Number of Warrant," "Number of Lot," "Number of Acres," and "Date Claim Was Filed." Some of the land was awarded by military warrants. A few entries include the date of a surveyor's return.
There is no index for these records. The Land Claims Record for West Tennessee, 1807-1820 begin at image 573 of FHC Film 1617586, image group number 7857405.