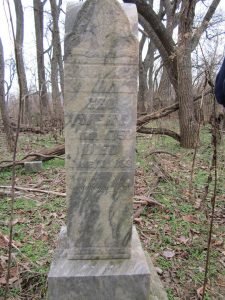 George Avery was born in North Carolina. According to his Revolutionary War Pension Application below, he enlisted in Edgecombe County, North Carolina in August 1782, at age 18, just as the Revolutionary War was ending. He served as a Private in Capt. Peter Bacot's Company, Col. Archibald Lytle's North Carolina Regiment, was engaged in no battles, and served until about August 1, 1783. He then lived in Edgecombe County for four or five years. He was married to Elizabeth Allen about 1787. They moved to the North Fork of the Holston River in Virginia for one year, then to Lincoln County, Kentucky for one year, then to Davidson County, Tennessee for eight or nine years, and then to Wilson County, Tennessee.
On November 18, 1815, Benjamin Nichols deeded one acre of land on Pond Lick to the Trustees of the Methodist Church, George Avery, William Anderson and John Hancock, for the purpose of building a meeting house. George Avery spent the remainder of his life in Wilson County. He died 10 June 1853 at the age of 89. Elizabeth (Allen) Avery died 27 November 1857 at age 92. They are buried in Chandler Cemetery near Leeville along with many of their family members. George and Elizabeth Avery had the following children:
1. Sally Avery, born 1 Jan 1789, married Peter Sullivan 31 Jul 1815.
2. William Avery, born 7 Feb 1791, married Permelia Sperry 17 Dec 1817.
3. Frances Anna Avery, born 8 May 1794, married Samuel Hancock 22 Jan 1817.
4. Allen Avery, born 1 Dec 1796, married Polly Wynne 29 Dec 1817.
5. Elizabeth Allen Avery, born 22 Dec 1797, married Jordan Chandler 16 Dec 1817.
6. George Sugg Avery, born 30 Mar 1800, married Judea Chandler 9 Mar 1822.
7. John W. Avery, born 22 Jun 1803, married Malinda Ann Tarver 23 Jan 1824.
8. Polly Avery, born 1805, married David Baird 14 Feb 1824.
9. Nancy Avery, born 16 Jan 1806, married Alfred A. Reader 4 Mar 1830.
George Avery Revolutionary War Pension Application